LVWeb
Comprehensive Online Projected Benefit System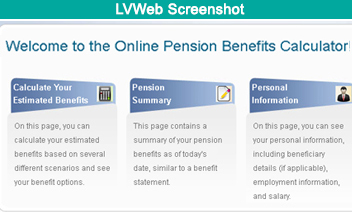 LVWeb is a comprehensive and secure online service product that is used by plan participants, plan sponsors, and third-party administrators (TPAs) to assist in managing the administrative operations of the plan. Utilizing the calculation engine of LVAdmin, our benefit administration system, users can estimate current and future benefits under a variety of scenarios including different dates of termination, different salary increases, and optional forms of payment. Retirement calculators further assist a participant in retirement planning.
LVWeb facilitates communications between participants, plan sponsors, and plan administrators via the message center and resource center. Plan sponsors and plan administrators can monitor usage by participants, transfer employee and payroll data, and query employee data for demographic analysis.
LVWeb is developed with the latest web architecture ensuring quick and accurate results and display. Benefit statements prepared by LVAdmin can be accessed by the participant at any time.
PARTICIPANT FEATURES

Access to benefit information at their convenience
Review personal information for accuracy and request changes if needed
Estimate retirement benefits at various dates, salary scales, and optional forms
Calculators that predict future account balances and equivalent annuities to assist in retirement planning.
Estimate loan repayments
Access and download plan forms, SPDs, and other plan information
Message center to communicate with plan sponsor and/or plan administrator in a secure environment
PLAN SPONSOR FEATURES

Compile statistics on participant activity and produce reports for internal management
Review participant requests and update LVAdmin database
Transfer census and payroll data to TPA
Maintain multiple plans with individual calculations and reports
Respond to participant questions via the message center
Send global communications to all participants or those in a select group through the message center
Access stored participant queries to list participants meeting certain criteria
Ability to simultaneously view the same data as the participant
Update and add documents to the resource center
Update the FAQ page for common participant questions
ADDITIONAL TPA FEATURES

Includes all features available to plan participants and plan sponsors
Compile statistics on participant activity by plan sponsor and plan.
Manage private labeling and other features available to the plan sponsor
Design screen display available to participants by plan.
Product Request
You can request a free demonstration of any of our products here...
Help Desk
Our best-in-class services are here for you.